Working Tools of the Golden Dawn Adept
Showing all 3 results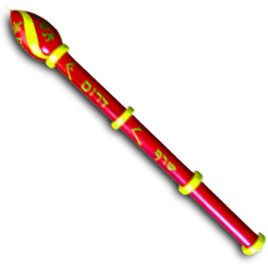 Golden Dawn Fire Wand
The Fire Wand of the Z. A. M. is used in all magical workings pertaining to the nature of elemental Fire and is under the presidency of the Hebrew letter Yod and of the "Wand of the Tarot."
not rated
$

75.00 –

$

125.00
Select options
Large Gothic Water Cup
THIS ITEM HAS BEEN SOLD
This is not your average Water Cup. The Large Gothic Water Cup is hefty and is painted in the colors of blue, metallic sapphire, orange, gold, and silver. The eight Lotus Petals are ornamented with gold crosses within a gold gothic arch. On the bottom of the Cup is a Water Talisman surrounded by a ring of blue felt to protect the artwork and safeguard your altar from scratches. This is a unique, one-of-a-kind item. Once it's gone, it's gone. It just needs a motto (If desired) and it's ready to ship.
not rated
$

200.00
Read more
Ultra Flaming Dagger
Posted 01/10/22.
Not long ago our source discontinued the Ultra Flaming Dagger blade that we crafted into Air Daggers and Banishing Daggers. However, we recently managed to find a similar blade. The handle is as yet unpainted and not wrapped with leather. Whoever purchases this dagger has the option to decide whether we finish it as an Air Dagger or a Banishing Dagger (or even to leave as is). Your choice.
This is a one-of-a-kind item: we don't know when we might find another one.
not rated
$

200.00
Read more