Description
Approximately three hundred years after John Dee and Edward Kelly worked on the Enochian system, it was incorporated into the inner teachings of the Hermetic Order of the Golden Dawn. Once S. L. MacGregor Mathers and Dr. William Wynn Westcott integrated it into the Golden Dawn curriculum, Enochian magic became a truly effective and potent system.
The Enochian Tablets (sometimes called the Watchtower Tablets) are four in number, each referring to one of the elements: Earth, Air, Fire, and Water. They contain the names of numerous Archangels, Angels, Rulers and energies.  Besides the four Elemental Tablets, there is another smaller Tablet – the Tablet of Union – referring to the fifth Element of Ether or Spirit.
This set of Enochian Tablets utilizes the traditional Latin alphabet with the primary elemental hues with letters in flashing colors. The Tablets are 11″ by 17″ in size. They can be purchased as POSTERS in a set of 5 for $80, or mounted on wood in a set of 5 for $200.  They are signed and dated on the back by Chic and Tabatha Cicero.
(NOTE: The low-res graphics displayed on this web page have been greatly reduced in size and show a distortion with regard to the thickness of the lines and letters as well as the depth and richness of the colors. Click on the photos displayed in the "choose an option" section to see clearer versions of the photos.)

Several Tablet variations are available for purchase on this page (Click "Select an Option") :
1) Standard Tablets in the Elemental colors
2) the Great Cross and Sephirotic crosses in flashing colors
3) the outer borders of the Tablets in the primary elemental hues with the Great Cross and Sephirotic crosses in flashing colors
4) Truncated Pyramid Tablets (often used for skrying)
5) Enochian Chess Boards (derived from the Enochian Tabets and used in divination)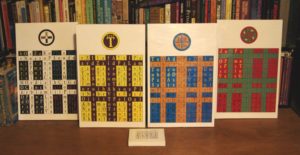 We also offer a set of Tablets featuring Enochian Alphabet Script Lettering
and our own unique recreations of Westcott's Enochian Tablets
(TO COMPARE all versions of Enochian Tablets, see our page on the Enochian Tablets.)
Related Products:
Enochian Flash Cards