Here you will find a variety of books, CDs, downloadable audio files, posters, and magical tools designed especially for practitioners of the Golden Dawn system of magic. All of our magical implements are hand-crafted by well-known authors and adepts Chic Cicero and Sandra Tabatha Cicero. Many of these items follow the original designs created by the Ciceros and described in their book Secrets of a Golden Dawn Temple.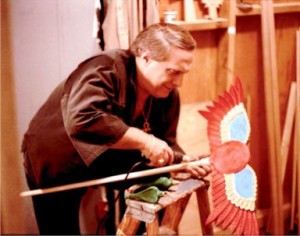 What is Magic?
Magic is a spiritual science that works to strengthen the will and imagination toward the ultimate goal of spiritual growth. Magical tools function as the visible embodiments of the Magician's own condition of soul and mind – a Fire Wand is a dynamic symbol of the creative will – and the Water Cup is a symbol of intuition as well as divine imagination. Golden Dawn magicians utilize a variety of magical implements their personal work, as well as in group ritual work. These items are often ceremonially charged and consecrated to be living receptacles for Higher and Divine Forces.
Tools of Hermetic Magic
Many of the magical tools featured here are painted in brilliant hues derived from a unique set of teachings known as the "Golden Dawn Color Scales" and the "Flashing Colors." In addition to exclusive products, you'll find all manner of magical implements included in the Golden Dawn Tradition—the Fire Wand, the Water Cup, the Air Dagger, the Earth Pentacle, the Rose Cross Lamen, the Magic Sword, the Lotus Wand, the Phoenix Wand, and more.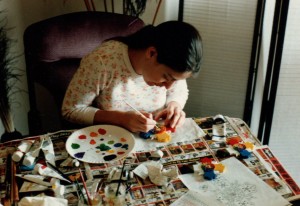 Our Handcrafted Implements
Our implements are specifically designed and painted for use in private workings as well as temple settings that fall within the Golden Dawn tradition. However, we also offer custom designed implements and colorations that may be useful to practitioners of other spiritual paths and traditions.
Each magical implement is custom-made and handcrafted by the Ciceros and comes with a signed and dated Certificate of Authenticity. [Because of the time involved to create these pieces, please allow up to eight weeks for the completion of your order.] All books and posters purchased are also signed by the Ciceros.
Thank you for visiting our store. Please check back from time to time for new items to be offered.
Visit Our Shop!
---
STC Designs
Looking for Golden Dawn street apparel, accessories, and gifts? Check out STC Designs for Tee-shirts, hoodies, hats, journal books, pins, tote bags, mugs, and home decor for Golden Dawn students as well as Rosicrucians and ceremonial magicians in general. (All merchandise designed by Sandra Tabatha Cicero.)