Talismans
Showing all 2 results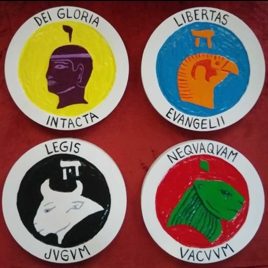 Kerubic Altar Plaques
The Kerubic Altar Plaques come in a set of 4 plaques. They are essentially Second Order talismans that are placed on the Circular Altar within the Vault of the Adepti. They are made of wood and the Kerub images are hand-carved in a bas-relief. Each plaque is 6 inches in diameter and 1 inch thick. They are painted in the flashing colors of the Elements and have white felt on the bottom of each plaque.
not rated
$

260.00
Add to cart
Large Gothic Water Cup
THIS ITEM HAS BEEN SOLD
This is not your average Water Cup. The Large Gothic Water Cup is hefty and is painted in the colors of blue, metallic sapphire, orange, gold, and silver. The eight Lotus Petals are ornamented with gold crosses within a gold gothic arch. On the bottom of the Cup is a Water Talisman surrounded by a ring of blue felt to protect the artwork and safeguard your altar from scratches. This is a unique, one-of-a-kind item. Once it's gone, it's gone. It just needs a motto (If desired) and it's ready to ship.
not rated
$

200.00
Read more