The Four Elemental Weapons or tools are the Earth Pentacle, the Air Dagger, the Water Cup, and the Fire Wand. These are the tarot symbols of the letters of the divine name YHVH, and of the elements, and have a certain bond and sympathy between them. So even if only one is to be used, the others should also be present. Therefore, let the Z. A. M. remember that when one works with these forces they are dealing with the forces of the letters of the divine name.
Fire Wand                                                  Water Cup                                                  Air Dagger                                          Earth Pentacle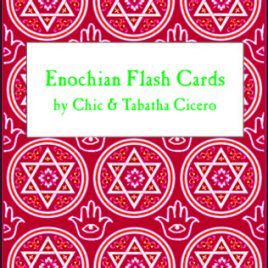 Enochian Flash Cards: The Angelic Alphabet
Enochian Flash Cards
by Chic and Tabatha Cicero provide students with a useful tool for memorizing the letters of the Angelic Alphabet. Featuring the Enochian letter attributions of Adam P. Forrest as well as the Golden Dawn's Flashing Colors, the Ciceros have created the perfect complement to their
Qabalah Flash Cards
. In addition to the Enochian Letter cards, the remaining cards include the
Four Elemental Tablets
, the Tablet of Union, and the Sigillum Dei Aemeth. They also include a series of paintings by Sandra Tabatha Cicero - the Four Archangels of the Elements, and the Garden of Eden, Before and After the Fall.
not rated
$

24.00
Add to cart
Follow us on Social Media: